Carnivals are a popular pastime all around the globe. There are so many carnivals happening round the year on different occasions. Some of the most popular carnivals in the world are as follows:
Carnival of Rio de Janeiro
It is the name of the most popular carnival from Brazil. What makes it the most prominent one among the carnivals is the special School of Samba Parade. Once this carnival is there, the people find fun everywhere in the town. This carnival lasts for 5 days and happens 5 days before the Lent. Over the past few years, the people attending the carnival has increased considerably. A rough estimate suggests that a total of 3 million people attend the carnival that is known for the performance of 100 samba schools and 300 bands.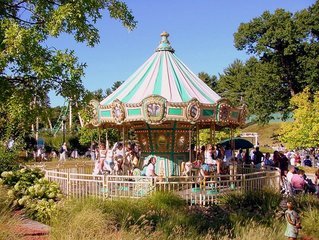 Notting Hill
This carnival from London is now one of the most popular ones in Europe as well. The carnival follows the Samba parades. The carnival is handled by the two most popular Samba schools namely London School and the Paraiso School. 50,000 artists are there in the carnival to entertain more than a million visitors on the last Saturday and Monday of the eighth month of the year. Besides entertaining the visitors with the great costumes, music and festivities they serve them with the mouth-watering Caribbean foods as well.
Mardi Gras
The people of the United States are in love with this carnival from New Orleans. It is known for the popular Mythological characters and the special musical performances. It is also known as being an integral part of the Epiphany Feast before the Mardi Gras.
Carnival of Santa Cruz de Tenerife
Exactly a week before the Lent on the Fat Tuesday, the people can enjoy this amazing carnival. It stands out as the second most amazing carnival after the one happening in Rio de Janeiro. The participants walk around in colourful costumes and exhibit their skills at the music also.
Carnival di Venezia
This 10-day carnival welcomes several visitors every year. It is known as the festival of colours and fun and the spice is added because of the masks and the painted faces along with the astounding costumes. The key features of the carnival equipment are costumes that exhibit the popular trends of the 18th century. Besides this, the nights are filled with the festivities of the grand balls.